Specialized è conosciuta in tutto il mondo non solo perchè realizza prodotti di alto livello ma anche perchè essendo una multinazionale, si può permettere di concentrarsi su specifici settori spesso trascurati dalla concorrenza, come quello della produzione di mountain bike appositamente studiate per le donne. I modelli a disposizione sono 8 con 14 allestimenti. Certamente la grande novità è l'arrivo della nuova hardtail Epic HT ora disponibile, in 2 versioni, anche con le forme e le geometrie studiate apposta per le donne.
Modelli cross country - Marathon
SPECIALIZED S-WORKS ERA FSR WORLD CUP 29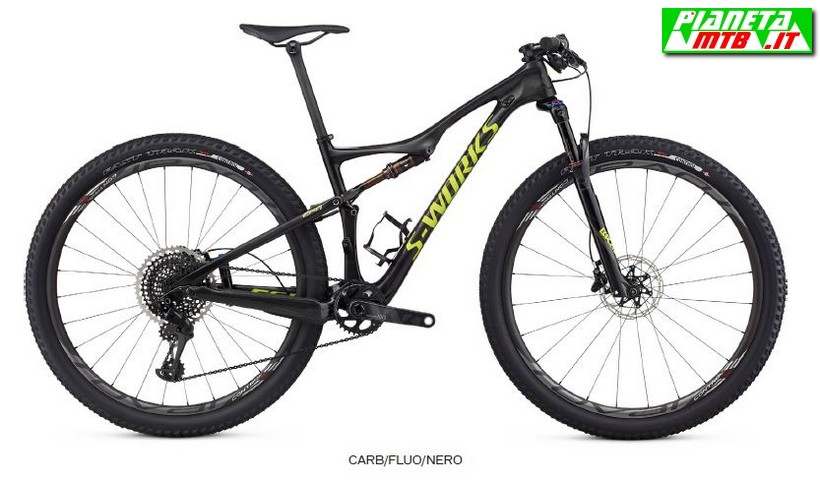 Telaio 29'': Carbonio FACT 11m
Forcella: Custom RockShox SID World Cup w/Brain, 100x15mm Maxle Stealth thruaxle, 90/100mm of travel, 51mm offset
Ammortizzatore: FOX/Specialized remote Mini Brain, AUTOSAG, Spike Valve, Brain, Kashima Coating
Cambio: SRAM XX1 Eagle 12 velocità
Comandi cambio: SRAM XX1 Eagle, 12 velocità, trigger
Guarnitura: SRAM XX1 Eagle, carbon, 32t
Cassetta: SRAM XG-1295, 10-50t
Freni: SRAM Level Ultimate 180/160mm anteriore, 160mm posteriore
Attacco manubrio: Syntace F109, 6° rise, 31.8mm clamp
Piega manubrio: Specialized Mini-rise, FACT carbon, 6° upsweep, 8° backsweep, 10mm rise, 700mm, 31.8mm
Ruote: Roval Control SL in carbonio con mozzi 15x100 e 12x142
Copertoni: Specialized Fast Trak, Control casing, 29x2.2", 60TPI, Aramid folding bead,
Tubo sella: S-Works FACT carbon, 0mm setback, carbon rail clamps
Sella: Women's Body Geometry Myth Expert Thin, binari in titanio ,155mm
Misure: S, M, L
Prezzo: 8.690,00
SPECIALIZED ERA FSR COMP CARBON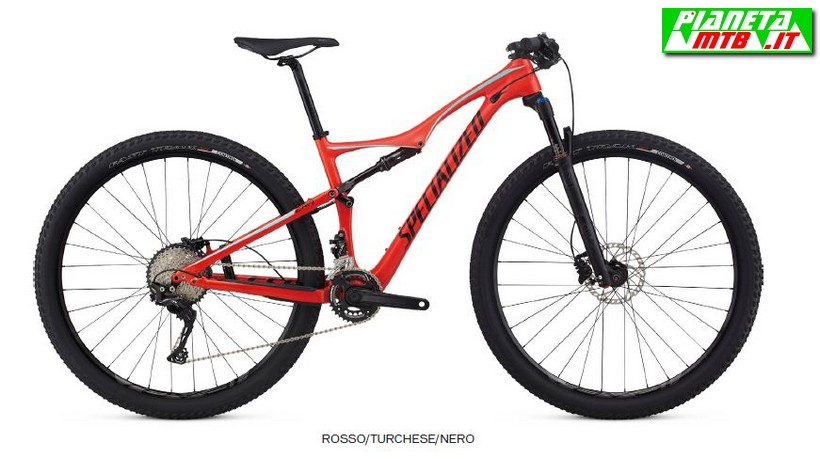 Telaio 29'': Carbon FACT 9
Forcella: Custom RockShox Reba RL, rebound adjust, Solo Air spring, 15x100mm Maxle Stealth thru-axle, 90/100mm of travel, 51 mm offset
Ammortizzatore: FOX/Specialized remote Mini Brain, AUTOSAG, women's Tune.
Cambio: Shimano XT 11 velocità
Comandi cambio: Shimano SLX, 11 velocità
Deragliatore anteriore: Shimano SLX
Guarnitura: RaceFace Aeffect, 6000-series alloy, 34/24t
Cassetta: Shimano SLX 11-42t
Freni: Shimano M506 180/160mm anteriore, 160mm posteriore
Attacco manubrio: Specialized, 3D-forged alloy, 4-bolt, 6° rise
Piega manubrio: Specialized 6000 alloy, 8° backsweep, 6° upsweep, 10mm rise, 700mm width, 31.8mm clamp
Ruote: Roval Control con mozzi 15x100 e 12x142
Copertoni: Fast Trak, Control casing, 29x2.2", 60TPI, Aramid folding bead,
Tubo sella: Specialized, alloy, 30.9mm
Sella: Women's Body Geometry Myth Sport, steel rails, 155mm
Misure: S, M, L,
Prezzo: 3.800,00
SPECIALIZED S-WORKS EPIC HT WORLD CUP 29 WOMEN
Telaio 29'': Carbonio FACT 11m
Forcella: Custom RockShox SID World Cup w/Brain, Rx Women's tune, Position Sensitive damper, top-mount Brain Fade adjust, rebound adjust, Solo Air spring, tapered carbon crown/steerer, 110x15mm Maxle Stealth thru-axle, 80/90/100mm of travel, 51mm offset
Cambio: SRAM XX1 Eagle 12 velocità
Comandi cambio: SRAM XX1 Eagle, 12 velocità, trigger
Guarnitura: SRAM XX1 Eagle, carbon
Cassetta: SRAM XG-1295, 10-50t
Freni: SRAM Level Ultimate 180/160mm anteriore, 160mm posteriore
Attacco manubrio: Syntace F109, 6-degree rise, 31.8mm clamp
Piega manubrio: Specialized Mini-rise, FACT carbon, 6° upsweep, 8° backsweep, 10mm rise, 720mm, 31.8mm
Ruote: Roval Control SL in carbonio
Copertoni: Specialized Fast Trak, Control casing, 29x2.2", 60TPI, Aramid folding bead,
Tubo sella: S-Works FACT carbon, 0mm setback, carbon rail clamps
Sella: Women's Body Geometry Myth Expert Thin, hollow titanium rails, 155mm
Misure: XS, S, M, L
Prezzo: 7.790,00
SPECIALIZED EPIC HT COMP CARBON WOMEN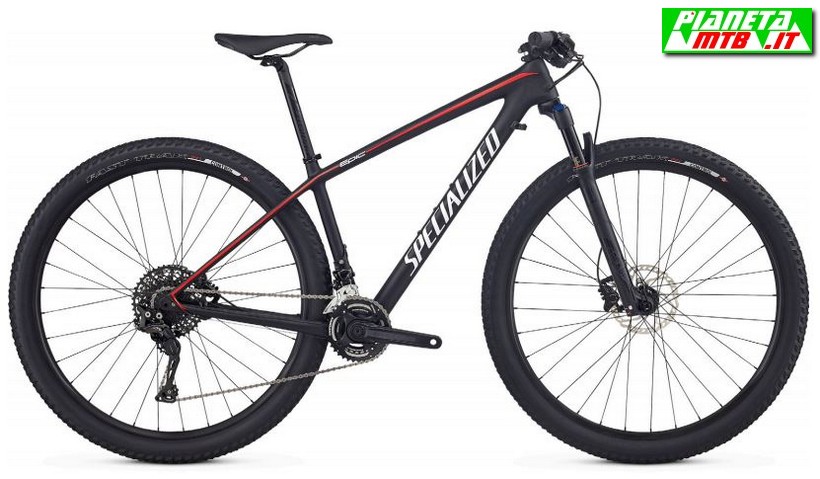 Telaio 29'': Carbon FACT 10
Forcella: Custom RockShox Reba RL, Women's Rx Tune, rebound adjust, Solo Air spring, tapered alloy crown/steerer, 15x110mm Maxle Stealth thru-axle, 51mm offset, 80/90/100mm travel
Cambio: Shimano XT 11 velocità
Comandi cambio: Shimano SLX
Deragliatore anteriore: Shimano SLX
Guarnitura: RaceFace Aeffect, 6000-series alloy,
Cassetta: SRAM PG-1130, 11-42t
Freni: Shimano M506 180/160mm anteriore, 160mm posteriore
Attacco manubrio: Specialized, 3D-forged alloy, 4-bolt, 6° rise
Piega manubrio: Specialized Mini-rise, 6000 alloy, 8° backsweep, 6° upsweep, 10mm rise, 720mm width, 31.8mm clamp
Ruote: Roval Control con mozzi 15x100 e 12x148
Copertoni: Fast Trak, Control casing, 29x2.2", 60TPI, Aramid folding bead,
Tubo sella: Specialized, alloy, 2-bolt, 27.2mm
Sella: Women's Body Geometry Myth Sport, steel rails, 155mm
Misure: XS, S, M, L
Prezzo: 2.550,00
Modelli Trail
SPECIALIZED CAMBER FSR 650B
Telaio 650B: Lega di alluminio M5, perno passante posteriore 12x148mm
Forcella: RockShox Sector Silver RL 27.5, Solo Air, 15x110mm, 46mm offset, 130mm travel
Ammortizzatore: Custom X-Fusion 02 Pro RL, Women's Rx Tune,
Comandi cambio: SRAM GX 11 velocità
Cambio: SRAM GX
Guarnitura: SRAM NX
Cassetta: Sunrace, 11-42t
Freni: Tekro Gemini Comp
Ruote: Con cerchi Specialized 650b, alloy, con canale interno 27mm, mozzi Boost 15x110e 12x148
Pneumatici: Purgatory, Control casing, 650bx2.3", 60TPI, posteriore Ground Control, Control casing, 650bx2.3"
Attacco manubrio: Specialized Trail, 3D forged alloy, 4 viti, 7° rise
Manubrio: Specialized Trail, 7050 alloy, 8° backsweep, 6° upsweep, 25mm rise, 720mm larghezza, 31.8mm
Tubo sella: Alloy, 2-bolt clamp, 12.5mm offset, 30.9mm, anti-corrosion hardware
Sella: Women's Body Geometry Myth Sport, steel rails, 155mm
Taglie: XS, S, M,
Prezzo: 1.850,00
SPECIALIZED RHYME COMP CARBON 650B WOMEN
Telaio 650B: Triangolo anteriore in carbonio FACT9, posteriore in lega di alluminio M5, perno passante posteriore 12x148mm
Forcella: RockShox Yari RC 27.5, Solo Air, 15x110mm Maxle Ultimate thru-axle, 150mm travel
Ammortizzatore: RockShox Monarch RT, Women's Rx Tune, AUTOSAG
Comandi cambio: SRAM GX 11 velocità
Cambio: SRAM GX
Guarnitura: RaceFace Aeffect, 6000-series 28t
Cassetta: SRAM XG-1150, 10-42t
Freni: SRAM Guide R
Ruote: Con cerchi Roval Traverse 650b, alloy, con canale interno 29mm, mozzi Boost 15x110e 12x148
Pneumatici: anteriore Butcher, GRID casing, 650x2.3, posteriore Slaughter, GRID casing, 650x2.3",
Attacco manubrio: Specialized Trail, 3D forged alloy, 4 viti, 7° rise
Manubrio: Specialized Trail, 7050 alloy, 8° backsweep, 6° upsweep, 25mm rise, 720mm larghezza, 31.8mm
Tubo sella: Command Post IRcc, 10-12 position micro-height adjustable,
alien head design, bottom mount cable routing, remote SRL lever, 30.9mm, XS: 75mm, S/M: 100mm, L: 125mm travel
Sella: Women's Body Geometry Myth Sport, steel rails, 155mm
Taglie: XS, S, M,
Prezzo: 3.990,00
SPECIALIZED RHYME COMP 650B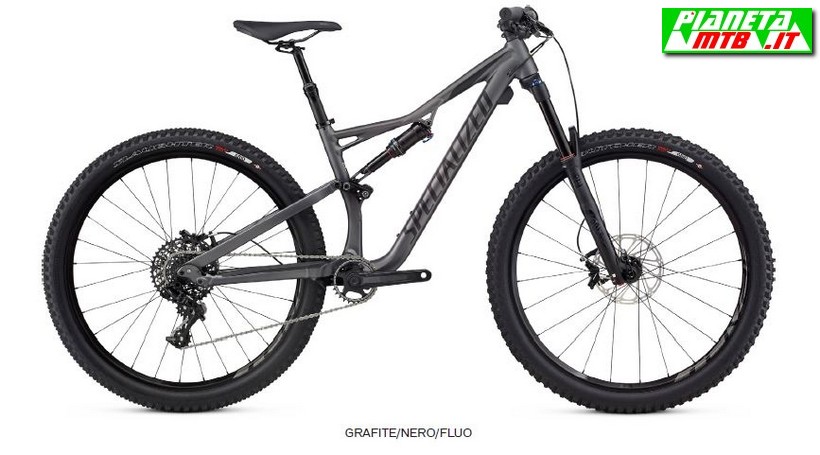 Telaio 650B: Lega di alluminio M5, perno passante posteriore 12x148mm
Forcella: RockShox Revelation RL 27.5, Solo Air spring, 15x110mm Maxle Lite thru-axle, 46mm offset, 150mm travel
Ammortizzatore: RockShox Monarch RT, Women's Rx Tune, AUTOSAG
Comandi cambio: SRAM GX 11 velocità
Cambio: SRAM GX
Guarnitura: RaceFace Aeffect, 6000-series
Cassetta: SRAM XG-1150, 10-42t
Freni: SRAM Guide R
Ruote: Con cerchi Roval Traverse 650b, alloy, con canale interno 29mm, mozzi Boost 15x110e 12x148
Pneumatici: anteriore Butcher, GRID casing, 650x2.3, posteriore Slaughter, GRID casing, 650x2.3",
Attacco manubrio: Specialized Trail, 3D forged alloy, 4 viti, 7° rise
Manubrio: Specialized Flat Top, alloy, 8° backsweep, 6° upsweep, 10mm rise, 720mm larghezza, 31.8mm
Tubo sella: Command Post IRcc, 10-12 position micro-height adjustable, 30.9mm, XS: 75mm, S/M: 100mm, L: 125mm travel
Sella: Women's Body Geometry Myth Sport, steel rails, 155mm
Taglie: XS, S, M,
Prezzo: 2.890,00
FAT BIKE
SPECIALIZED HELLGA
Telaio 650B: Lega di alluminio M4,
Forcella: Specialized, alloy, 135mm hub
Comandi cambio: SRAM X5 10 velocità
Cambio: SRAM X5
Deragliatore anteriore: SRAM X5
Guarnitura: Custom Samox, forged alloy, 2x10, 36/22t
Cassetta: Sunrace, 10-speed, 11-36t
Freni: SRAM Guide R
Ruote: Con cerchi Stout XC, canale interno 90mm con mozzi da 135mm (ant) e 190mm (post)
Pneumatici: Ground Control Fat, 26x4.6",
Attacco manubrio: 3D-forged alloy, 4 viti, 6° rise
Manubrio: Specialized Stout, 6061 alloy, 9° backsweep, 5° upsweep, 15mm rise, 740mm larghezza, 31.8mm
Tubo sella: Alloy, 2-bolt, micro-adjust, 12.5mm offset, 27.2mm
Sella: Women's Body Geometry Myth Sport, steel rails, 155mm
Taglie: S, M, L
Prezzo: 1.300,00
E-BIKE
SPECIALIZED TURBO LEVO FSR COMP 6FATTIE WOMEN
Telaio 650B: Lega di alluminio M5, perno passante posteriore 148mm
Unità motore: Exclusive custom tune and software, Trail Tune, 250W
Batteria: Custom Levo Battery, 460Wh, ANT+/Bluetooth® connectivity, IP 67
Forcella: RockShox Yari RC 29/27.5+, Solo Air spring, perno passante 15x110mm, 51mm offset, 140mm travel
Ammortizzatore: Fox Float Performance, Women's Rx Tune, AUTOSAG, DPSdamper,
Comandi cambio: SRAM GX 11 velocità
Cambio: SRAM GX
Guarnitura: Custom con corona 32t
Cassetta: Sunrace, 10-42t
Freni: SRAM Guide R con dischi da 200mm
Ruote: Con cerchi Roval Traverse 650b, con canale interno 38mm, mozzi Boost 15x110e 12x148
Pneumatici: Purgatory, Grid casing, 650bx3.0", 60TPI,
Attacco manubrio: Specialized Trail, 3D forged alloy, 4 viti, 6° rise
Manubrio: Specialized, 6061 alloy, 6° upsweep, 8° backsweep, 27mm rise, 750mm larghezza.
Tubo sella: Telescopico command Post IRcc, 12 position micro-height adjustable, 30.9mm, S:100mm, M/L/XL: 125mm travel
Sella: Women's Body Geometry Myth Sport, steel rails, 155mm
Taglie: S, M, L
Prezzo: 4.490,00
SPECIALIZED TURBO LEVO FSR ST 6FATTIE WOMEN
Telaio 650B: Lega di alluminio M5, perno passante posteriore 148mm
Unità motore: Exclusive custom tune and software, Trail Tune, 250W
Batteria: Custom Levo Battery, 460Wh, ANT+/Bluetooth® connectivity, IP 67
Forcella: RockShox Revelation RL 29/27.5+, Solo Air spring, perno passante 15x110mm, 51mm offset, 120mm travel
Ammortizzatore: Fox Float Performance, Women's Rx Tune, AUTOSAG, DPSdamper,
Comandi cambio: SRAM NX 11 velocità
Cambio: SRAM NX
Guarnitura: Custom con corona 32t
Cassetta: Sunrace, 11-42t
Freni: SRAM DB5 con dischi da 200mm
Ruote: Con cerchi Roval Traverse 650b, con canale interno 38mm, mozzi Boost 15x110e 12x148
Pneumatici: Fast Track, Grid casing, 650bx2.8", 60TPI,
Attacco manubrio: Specialized Trail, 3D forged alloy, 4 viti, 6° rise
Manubrio: Specialized, 6061 alloy, 6° upsweep, 8° backsweep, 27mm rise, 750mm larghezza.
Tubo sella: Alluminio, 2-bolt clamp, 12.5mm offset, 30.9mm
Sella: Women's Body Geometry Myth Sport, steel rails, 155mm
Taglie: S, M, L
Prezzo: 3.390,00
SPECIALIZED TURBO LEVO FSR HT COMP 6FATTIE WOMEN
Telaio 650B: Lega di alluminio M5, perno passante posteriore 148mm
Unità motore: Exclusive custom tune and software, Trail Tune, 250W
Batteria: Custom Levo Battery, 460Wh, ANT+/Bluetooth® connectivity, IP 67
Forcella: RockShox Reba RL 29/27.5+, Solo Air spring, perno passante 15x110mm, 100/120mm travel (size specific), 51mm offset
Ammortizzatore: Fox Float Performance, Women's Rx Tune, AUTOSAG, DPSdamper,
Comandi cambio: SRAM GX 10 velocità
Cambio: SRAM GX
Guarnitura: Custom con corona 32t
Cassetta: Sunrace, 11-40t
Freni: SRAM DB5 con dischi da 200mm
Ruote: Con cerchi Roval Traverse 650b, con canale interno 38mm, mozzi Boost 15x110e 12x148
Pneumatici: Purgatory, Grid casing, 650bx3.0", 60TPI, sull'anteriore e Ground Control, Grid casing 650bx3.0'' sul posteriore
Attacco manubrio: Specialized, 3D-forged alloy, 4 viti, 6° rise, 31.8mm clamp
Manubrio: Specialized, 6061 alloy, 6° upsweep, 8° backsweep, 27mm rise, 750mm larghezza.
Tubo sella: Telescopico TranzX, internal cable routing, remote lever, 30.9mm, S/M: 80mm, L: 100mm travel
Sella: Women's Body Geometry Myth Sport, steel rails, 155mm
Taglie: S, M, L
Prezzo: 3.890,00
MODELLI ENTRY LEVEL
JETT PRO 29
Telaio

: Alluminio

Forcella

: RockShox 30 Gold 29, travel 80mm

Comandi

: Shimano Deore

Deragliatore

: SRAM X5

Cambio

: Shimano XT 10 velocità

Guarnitura

: 36x22t

Freni

: Shimano BR-M506,

Ruote: 29 pollici
Prezzo

: 1.350,00
JETT COMP 29
Telaio: Alluminio
Forcella: SR Suntour XCR-Air, 80/100mm travel
Comandi: Shimano Acera
Cambio: Shimano Deore 9 velocità
Deragliatore: SRAM X5
Guarnitura: 36x22t
Freni: Shimano BL-M315,
Ruote: 29 pollici
Prezzo: 850,00
JYNX COMP 650B
Telaio: Alluminio
Forcella: SR Suntour XCR 32 650b
Comandi: Shimano Altus
Deragliatore: Shimano Altus
Cambio: Shimano Deore 9 velocità
Guarnitura: 44x32x22t
Freni: Shimano BL-M315
Ruote: 650B
Prezzo: 660,00
INFO